Industry insights
Based on its sector expertise and experience, Oaklins was able to position Rolande as an attractive investment in the fast growing LNG truck market.
The LNG market is growing quickly and has a bright outlook
The market fundamentals for LNG usage by trucks are strong, driven by four main factors:
01.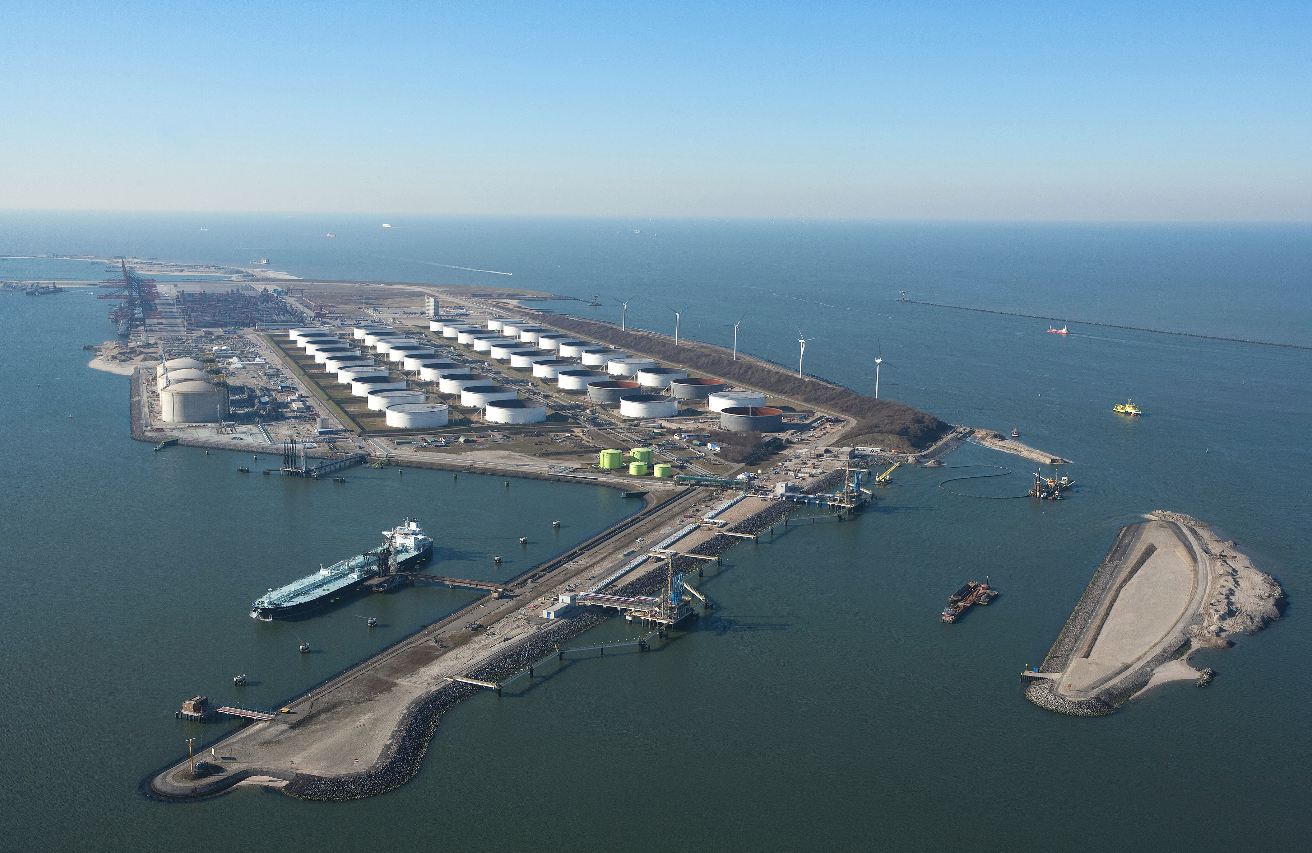 Strong demand for LNG has boosted infrastructure and awareness
Over the past years, global LNG demand has continued to defy the expectations of major energy companies* (*Shell LNG outlook 2018). Moreover, all energy majors expect that the significant demand growth for LNG will persist going forward all around the world, as LNG is seen as a flexible, reliable and clean energy alternative for traditional fossil fuels
A result of this strong market growth over the past decade is that huge investments have been done in LNG infrastructure, paving the way for further LNG market growth
02.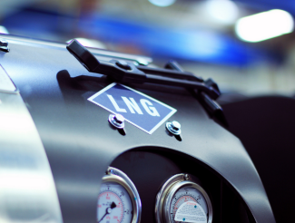 Clear advantages of LNG for heavy-duty road transport
LNG is believed to be the only real viable cleaner fuel for the long distance heavy-duty road transport sector in the next decades, due to, among others, CO2 emissions cuts by 20%, reduced NOx emissions by 35%, reduced particle mass by 95%, less noise and significant fuel cost savings associated with LNG in comparison with diesel
Market experts do not believe it is feasible that electric trucks are able to replace long distance heavy-duty road transport on the mid-to-long term, as batteries required are too large and heavy, leaving little room for cargo. In addition, given the energy density of current lithium-ion batteries, the maximum range of electric trucks is insufficient for long distance freight
03.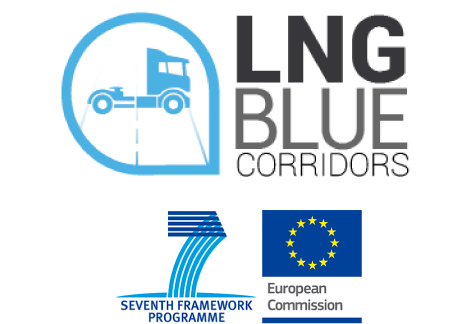 LNG is one of the key tools for governments to realize emission targets
For nations across the world, limiting the environmental impact of the global industry and population, is one of the highest priorities
As the advantages of LNG become increasingly apparent to governments, incentives for LNG-powered road transport gain increasingly broader support from governments through various policies and government funded projects, such as the European Blue Corridors project, the exemption from road charges (i.e. MAUT) for LNG trucks in Germany and the exemption from excise duty for LNG trucks in Belgium
04.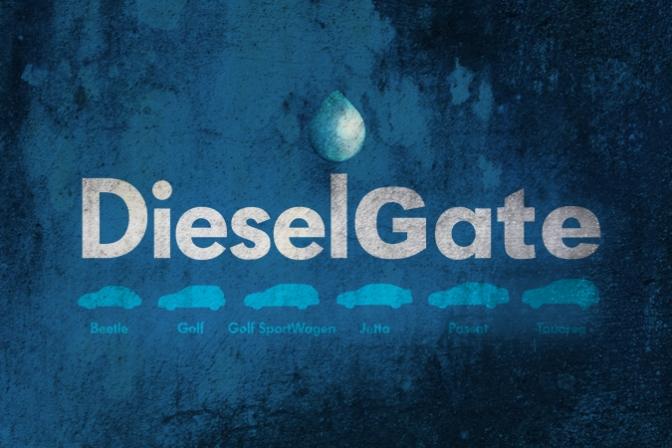 Environmentally conscious (end-) users look for diesel alternatives
In addition, pressures from consumers and environmental organizations, make multinationals increasingly aware of their corporate social responsibility. One of the key aspects is their carbon footprint, as logistics of transferring goods from all around the world cause significant pollution. As such, corporates are increasingly looking into LNG to make their supply chain more environmentally friendly
News like "dieselgate" further boost the shift from diesel to LNG
Furthermore, the right tools are also getting into place to facilitate market growth:
05.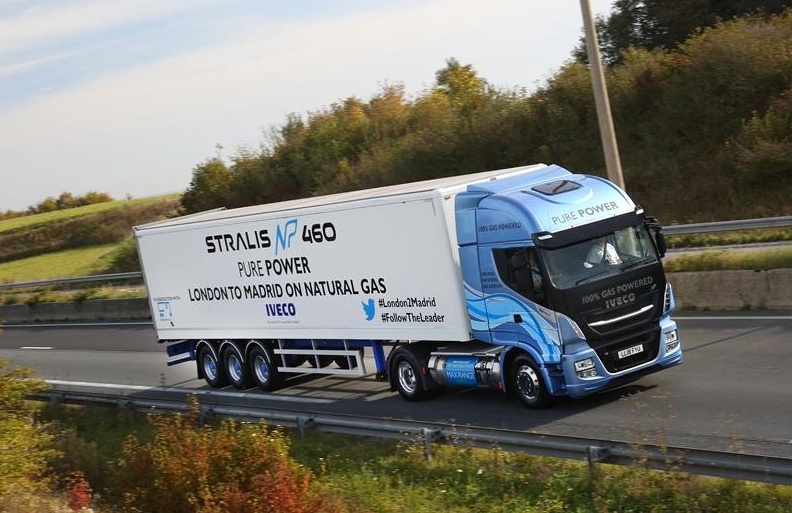 Truck manufacturers have also started to see the market potential and launch powerful heavy-duty LNG trucks
Iveco launched a powerful and efficient truck in October 2017
Volvo introduced the Volvo FH LNG and Volvo FM LNG, Euro-6 compliant heavy-duty trucks running on LNG, in October 2017
Scania introduced a new 13-litre LNG compatible engine in November 2017
Furthermore, Mercedes is actively experimenting with alternative fuels for trucks. An LNG truck might be launched soon
06.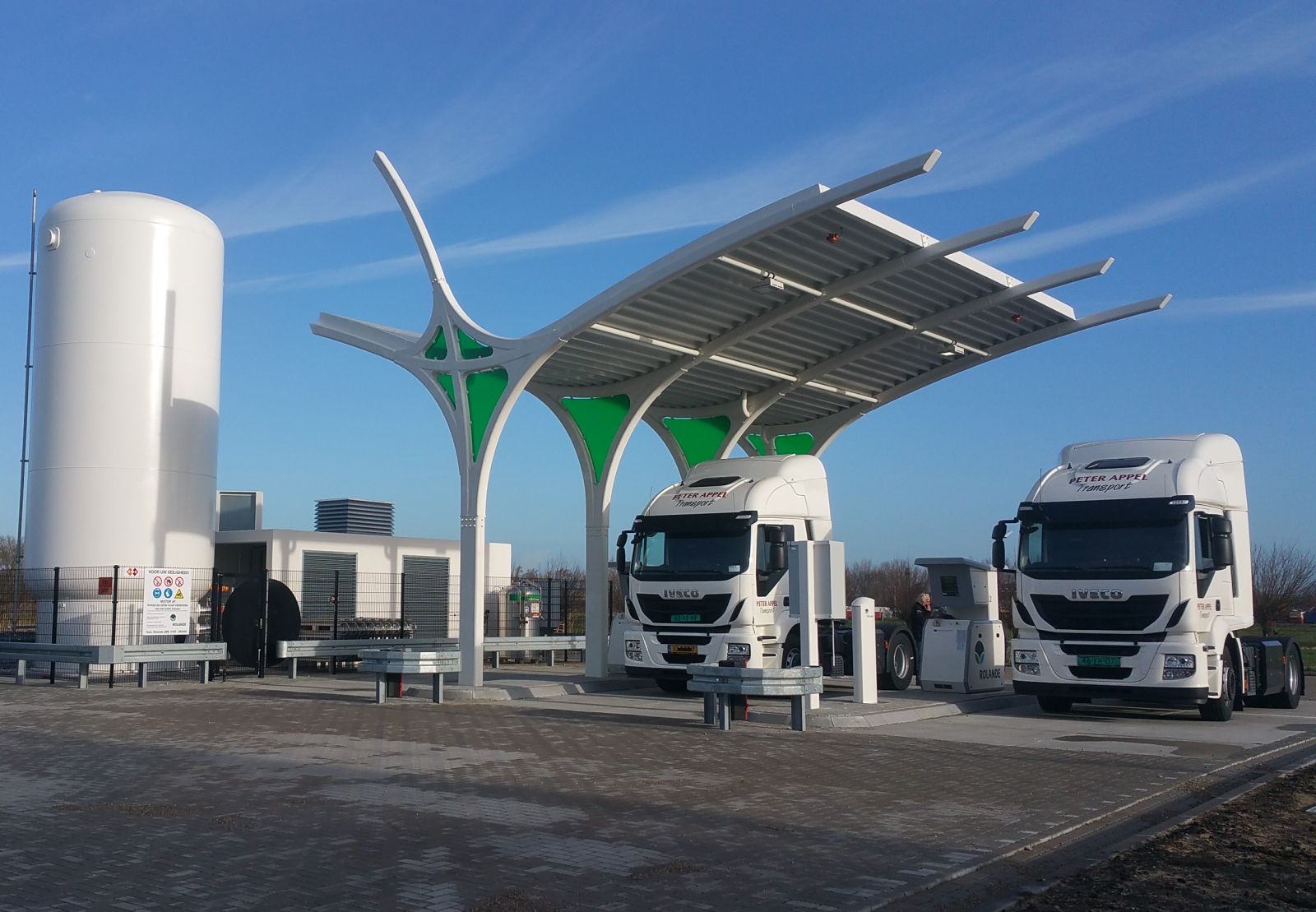 Energy retailers have also started to see the market potential and install LNG stations
Supported by the previously mentioned developments, the European LNG station network is rapidly growing, facilitating the future use of LNG-powered heavy-duty transport trucks in all European regions
Number of LNG trucks in Europe
With the market fundamentals pointing in the right directions, the infrastructure and (only recently) powerful LNG trucks becoming available, LNG truck sales are now rapidly picking up. This trend is expected to have a snowball effect. There are different forecasts available on the amount of LNG trucks on the European road, as shown by the graph below. One can conclude that on average, by 2025, the different market studies predict that about 185,000 LNG trucks will be driving on the European roads, which is a market share of about 9%. To put this into perspective; at the end of 2018 the number of LNG trucks in Europe was about 5,000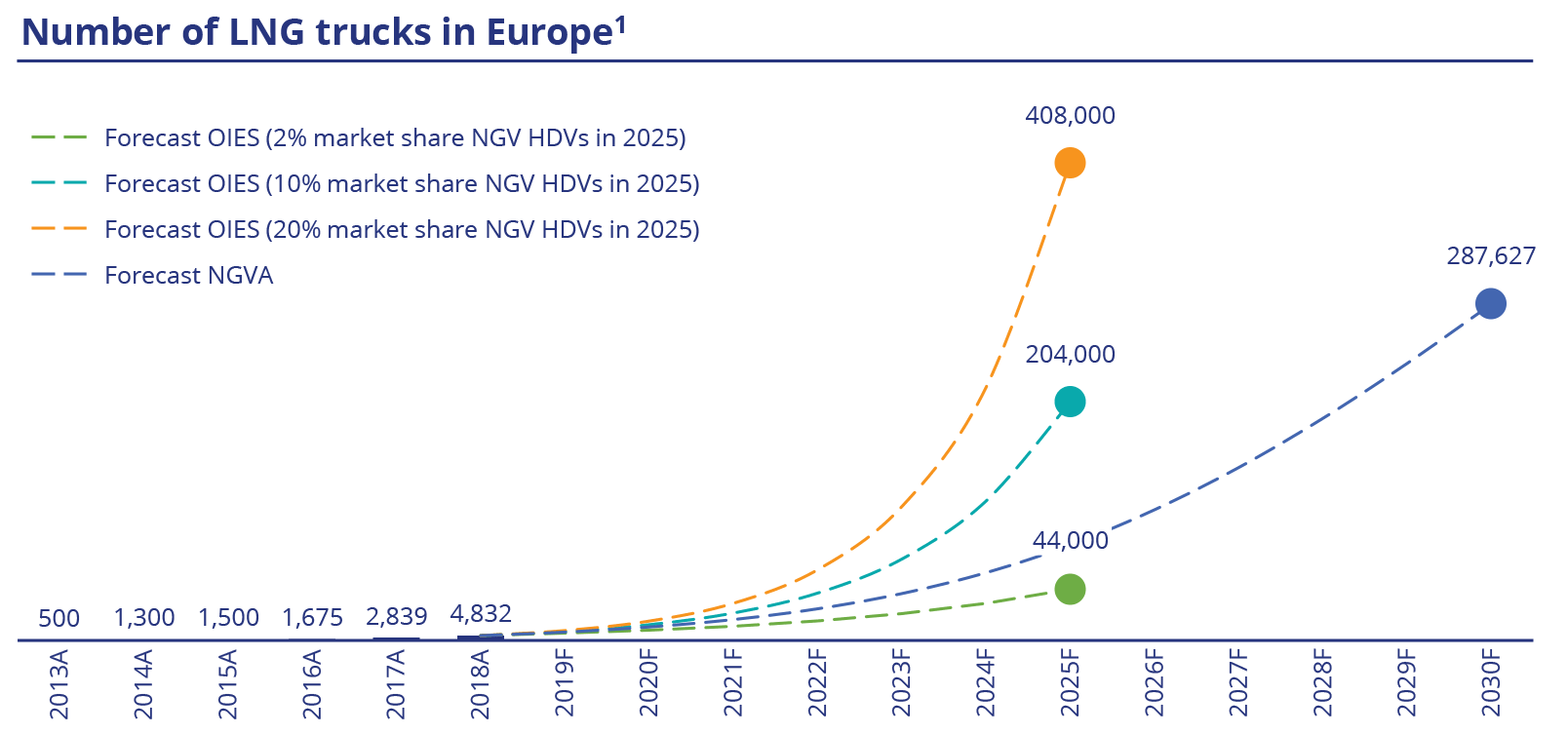 Note 1: The prospects for natural gas as a transport fuel by the Oxford Institute for Energy Studies (OIES). 2030 LNG truck forecast by the Natural Gas Vehicle Association (NGVA). Forecast is based on natural gas HDVs, particularly LNG heavy-duty trucks as LNG is economically more beneficial for heavy transport. Market share projections of OIES are excluding Russia and Ukraine