---
Market developments
We expect the agricultural water equipment market to see a consolidation wave as it is proving to be an attractive, high-growth segment, with a fragmented landscape and significant synergy potential.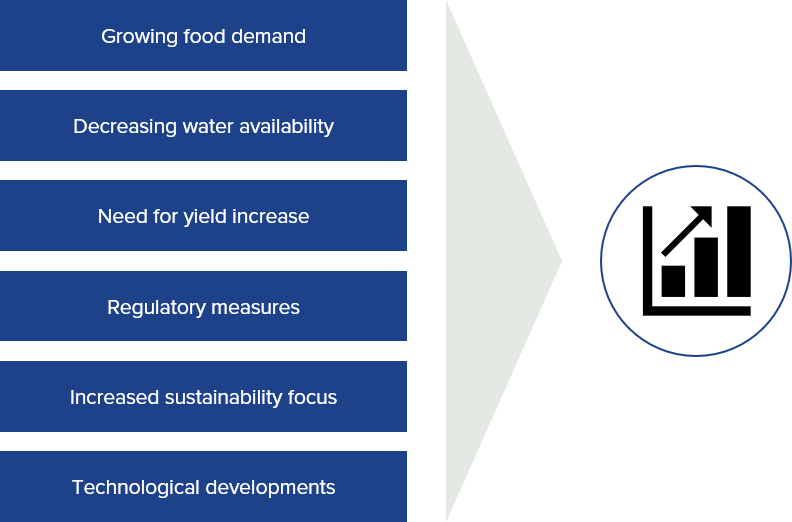 These are the long-term trends resulting in increased demand for efficient water systems
Demand growth for efficient agricultural water equipment is accelerating rapidly across the globe, fueled by six important long-term trends.
In the coming decades the world's population is projected to grow substantially, increasing from 7.6bn people today to 8.6bn by 2030 and 9.8bn by 2050. As a result, global food demand is also set to expand at a rapid pace. The United Nations, for example, estimates that food production will need to grow by 69% by 2035 to feed the growing global population. As food production is the single largest user of fresh water (currently accounting for 70% of global fresh water use), this will lead to massively increased demand for fresh water. Economic expansion and the growing global middle class will even further accelerate fresh water demand growth. As a result, according to the United States Agency for International Development (USAID), global demand for fresh water is expected to double over the next 21 years.

Decreasing water availability
While demand for fresh water has increased and continues to expand rapidly, the availability of fresh water has decreased by 26% over the past 25 years, driven by global warming and environmental degradation. To address these long-term demographic and environmental challenges, and maintain and increase the supply of fresh water in a sustainable manner, reclaiming and recycling of water will be essential. Efficient agricultural water systems will be a key tool to achieve this goal in the coming years and decades.
In many regions (e.g. in the EU), the total amount of land available for all purposes (e.g. residential, industry, agriculture, etc.) is relatively limited. Consequently, population growth will not only drive demand for food (and therefore water) but will also put pressure on the availability of agricultural land, as a growing proportion of land is used for housing and related purposes. As a result, the amount of land for agricultural use will continue to fall between now and 2030.
To counter the decline in arable land, maintain food security and promote economically important agricultural exports, maximizing agricultural yields will be of great importance. Greenhouses (which offer superior productivity) and other yield-enhancing technologies will play a key role in maintaining and expanding food production levels, further fueling the demand for efficient agricultural water systems over the coming decades.
The large and growing fresh water supply-demand imbalance is also driving a shift in regulation. Environmental (water) regulation is an especially relevant factor in advanced economies, where environmental awareness is comparatively high. Regulation is particularly important in the EU, as c. 80% of Europe's fresh-water use comes from rivers and groundwater, which makes these sources extremely vulnerable to threats posed by over-exploitation, pollution and climate change.
Increased sustainability focus
Consumer-driven demand for sustainability is another key dynamic in many advanced economies. Proven sustainable supply chains and production methods have become more important for businesses across a wide range of sectors, such as fashion, food and agriculture. Nowadays, ambitious sustainability goals, audits and certificates are even increasingly considered merely an order qualifier (i.e. a minimum requirement for many tender processes, etc.), instead of just an order winner.
In the coming years, demand for—and the adoption of—sustainable business practices is expected to intensify, in particular in agriculture. Efficient agriculture water systems will be key to achieving such goals, and companies are increasingly willing to invest in new, more efficient water systems.

Technological developments
Another important development is the rapid growth of the smart homes & industry market, which drives demand for sophisticated, connected solutions that collect data, analyze various types of information and optimize water systems' water usage on a real-time basis. The exponentially increasing demand for smart solutions often offers significant opportunities for up- and cross-selling for manufacturers and distributors of traditional products. In addition, the use of increasingly sophisticated products—including connected solutions—results in more expensive systems, boosting the value of the market.
Share this article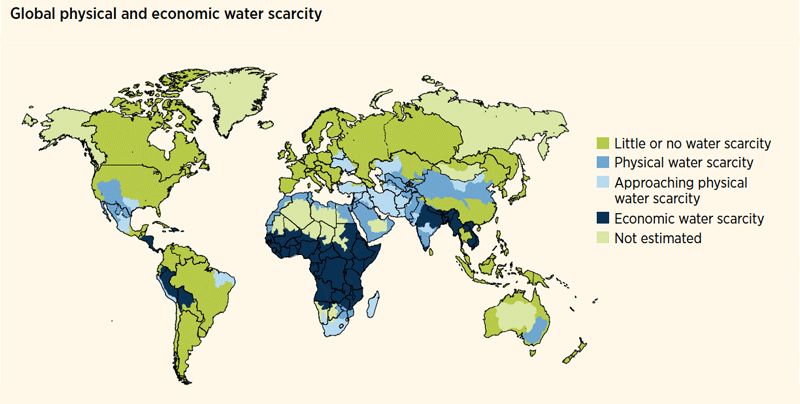 Fragmented market landscape
The agricultural water equipment market has distinct characteristics across the value chain.
Valuation dynamics
Valuation parameters of listed agricultural water equipment players and relevant past transactions.